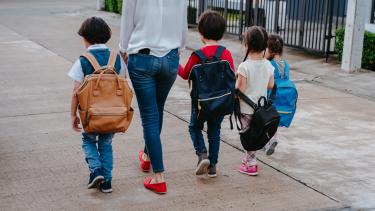 Welcome Back, Bondar!
August 31, 2023
Dear Families,
It is my absolute pleasure to welcome you all back to school this fall! The adjustment back to school and the routines that come along with it may not always be the easiest, but rest assured that at Bondar we are ready to wrap around you all and support you and your children in making the transition as smooth as it can be. We are going to have a wonderful and exciting start to the year.
Last Spring, Bondar quickly became like home to me, and I am so pleased that I have the opportunity to continue working with you this year and beyond. This is an incredibly special place that values teamwork, communication and care, and there is no place that I would rather be, no team that I would rather work with. Your children are intelligent, resilient, empathetic and kind, and the way that the parent community comes together to support one another and to contribute to school life is truly unique. Our staff feels like a family, and the care that they show to students and to each other shows that relationships, creating safety and a sense of belonging to all community members, are at our core. Thank you, Bondar!
Please be on the lookout for information regarding the start of the school year, including the adjusted hours of the first day, temporary room/teacher assignments, and review of school procedures and expectations. I would also like to add that we will be working diligently to keep the school website updated and current with information this year, so please begin to refer to it when questions arise.
Enjoy the long weekend ahead and have fun with the family. I cannot wait to see everyone on Tuesday morning😊