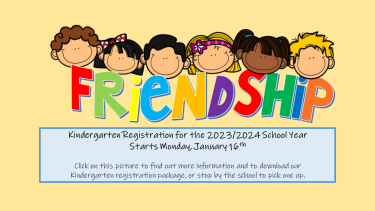 Kindergarten Registration
Registsration Information and Forms
Kindergarten Registraion for the 2023/2024 school year starts on Monday, January 16th, 2023.
Feel free to stop by and pick up a Kindergarten Registration or click on the link below to download a copy.
Unfortunately, we are unable to accept completed registrations until Monday, January 16th.
When completing your registration package, please ensure that you follow the in ID & Proof of Address instruction page.
Please feel free to contact  Karo if you have any additional questions at 604-864-8572.
Kindergarten Registration - 2023-2024.pdf
Please read the brochure below if you are a parent of a kindergarten student with diverse needs or disabilities.
Kindergarten LSS Brochure 2023.pdf
For more information on the Abbotsford School Districts Indigenous Education Program, please click on the brochure below.